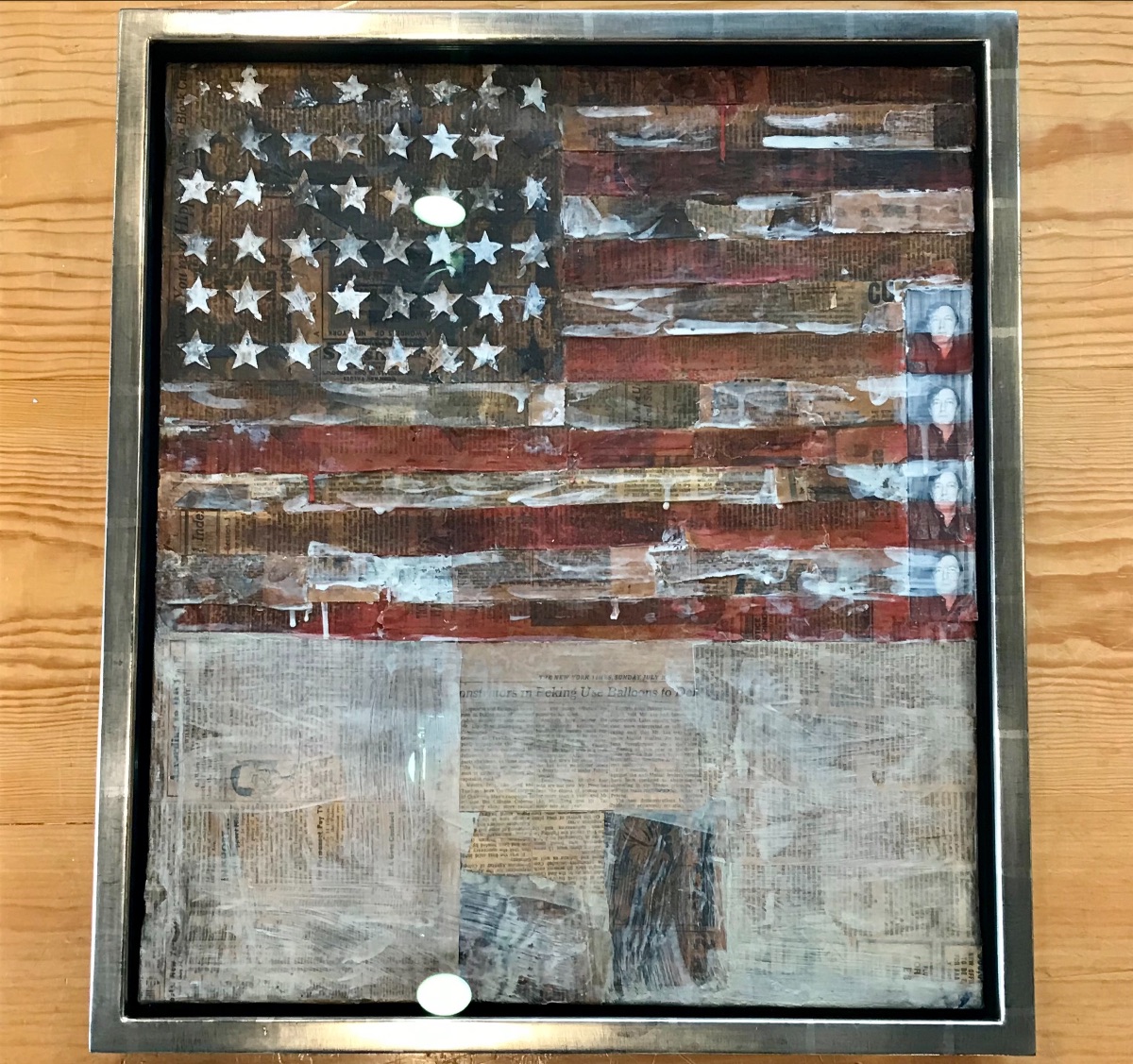 What are the best frames for contemporary artwork?
by Sarah Balinskas, Founder, Sarah Balinskas Fine Framing
You have visited galleries and perhaps artist studios, done research, and purchased a piece of art you love. You also regard it as an investment. Now you may be wondering what the best frame would be to protect your artwork and align with the quality of your acquisition. What are the best frames for contemporary artwork? Often the best choice is a simple moulding profile sometimes referred to as a gallery frame.  Seemingly simple, there is so much this understated frame can do when it is well considered and beautifully crafted.
A quest for perfection
In 1983, I was fascinated by simple contemporary hardwood "gallery" frames used by high end contemporary art galleries and museums. The quality of frames I saw on artworks in museums was not readily available to the public. In the framing world, the focus on preservation techniques and materials was relatively new. With a desire for every frame to be perfect for every artwork, I learned to make hand-finished hardwood gallery frames with spline corner joinery- like fine hand-crafted furniture.
The gallery frame
The gallery style frame that works so well for contemporary artwork is made with moulding that has a simple profile, a flat face and a 90-degree angle from the face to the back. For me, it is the "little black dress" of framing. Some variation of this profile is used to frame almost all contemporary artworks. Although the basic profile is simple, carefully considered variations will make the end result exquisite for each artwork.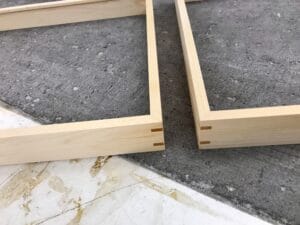 Variations
Hand finished hardwood frames, hand made gold leaf frames, aluminum, bronze, and steel frames in gallery style can all be specially finished. The width of the face, the depth of the moulding, the materials and finishes can all contribute to variations that are finely tuned to each artwork.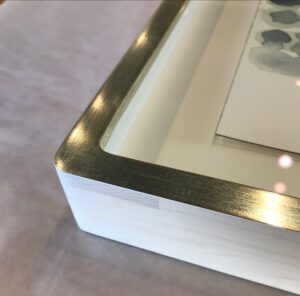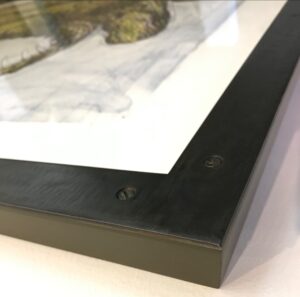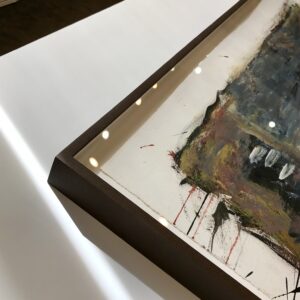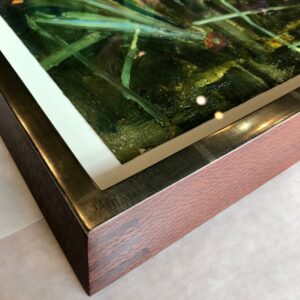 Hand finished hardwood frames
A perfect gallery frame for a contemporary piece might be a wood frame made in maple, walnut, oak, ash, or another wood. Hardwood selection from stacks of wood at the supplier is always thrilling–a real treat for the senses! I imagine the unfinished boards turned into beautiful frames. Finishes can be a pearlescent neutral bleached maple with a clear satin lacquer finish or natural maple, or many different stained finishes on walnut ranging from natural to grays to browns to varying shades of black. Painted white and painted black are also clean, neutral, and contemporary options. Beautiful woods combined with stains, waxes, lacquers, shellacs, or paint are some of the materials to make perfectly beautiful gallery style frames. Hardwood frames open the door to the vast possibilities of frames for contemporary artworks and sublime results when the scale, materials, and finish all work together.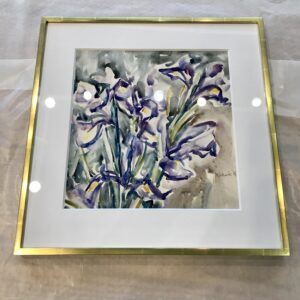 Gold leaf frames
More formal and traditional but sometimes even appealingly edgy are gold leaf finishes on gallery frames. Selecting the right scale, color, and burnish are all part of the refinement of gold leaf frames. Water gilding is the most beautiful finish of the gold leaf application techniques. Nothing compares. Gold leaf in varying karats can be used, and ranges in colors from white gold to 22k yellow gold and many other karats in between. Making perfect gold leaf frames involves layers and layers of perfectly applied gesso and clay before the gold is painstakingly applied leaf by leaf, and then just the right burnish (satin or highly polished), and a wash or a rub and shellac to complete and seal the finish. Hand finished gold leaf frames are often the finest way to frame a contemporary piece.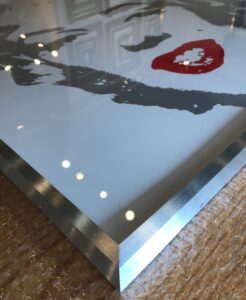 Welded aluminum and other metal frames
Gallery frames also can be made in metal. In fact, welded aluminum frames for contemporary art were originally designed by New York artist and frame maker Robert Kulicke in the 1950s for the Museum of Modern Art for traveling exhibitions.  He did not patent the design so other companies began to mass produce the ubiquitous metal section frames. The Kulicke metal frames, however, were superior to those that were later mass-produced. For one thing, they had welded and polished corners. Welded aluminum frames have been used on contemporary artworks for 60 years by artists such as Robert Motherwell, Ed Ruscha, James Rosenquist, and many other artists wanting a totally minimal frame profile, which is the primary advantage. A metal float frame for canvas can be as narrow 1/8", which is a very thin edge. A metal frame with a lip can be as narrow as ¼". Often a super narrow face works best for a minimalist effect on contemporary artworks and welded aluminum frames have a crisp and clean look.
Powder coat finishes are also used on welded aluminum frames. Powder coat provides a durable finish in a range of neutral tones that can be specified to complement – and not compete with – an artwork. Durability is a great advantage of welded aluminum frames, which makes them very practical for museums or traveling exhibits. Welded steel and bronze are also very appropriate for some contemporary works and have their own unique character which can be just the right thing for certain pieces.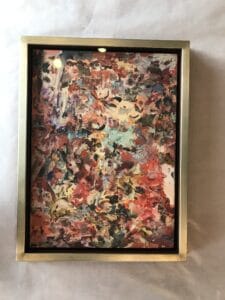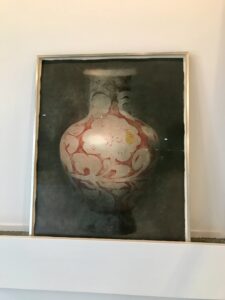 How does a carefully selected frame help preserve the value of your investment?
Certainly, it is the knowledgeable use of preservation materials and techniques that protect your artwork from harm. Also, a carefully selected frame appropriately fitted provides protection from mishandling. Choosing custom made frames, whether in hardwoods, gold leaf, or metal, is an investment: they should not need to be replaced. Like anything made in authentic materials by authentic methods, they endure aesthetically, age well, and only acquire character over time. When the right frame is used along with archival materials and preservation techniques designed to protect and preserve the artwork, the result is framed artwork that is museum worthy.
Schedule a Consultation
Do you have an artwork you would like to frame or display? We would be glad to assist. Click here to schedule a consultation. Our consultation hours are Tuesday through Friday, 9a-5p.